A review, still in times of Covid.
2020, as we all know, was a annus horribilis.  Covid took over the world  and our lives were turned upside down, with lockdowns and the like.  Surely 2021 would be back to normality.  Not quite, but we did welcome our new manager Helen at the start of the year and it would be some time before she was able to see her office.  We had to think outside the box as to how we could best support our families whilst we couldn't hold large gatherings.
Valentines Day craft packs were sent out to members who requested them, to make some homemade cards.
Easter we held a 'drive thru' and had a visit from the Easter bunny.  We offered hot drinks and a cake box full of goodies plus Easter Eggs and bottles of water.  The Easter bunny posed for photos with our families.
We managed a lovely trip during Spring half term to The Wild Place Project.  There were only a few families on this visit which gave us the opportunity to stick together for most of the day.  We saw Brown Bears, wolves and wolverine in Bear wood, giraffes and zebra plus a plethora of other animals.  We had our lunch together, giving us all the chance for a chat over a cuppa.  It was nice to spend time outdoors. 
Our next meet up would be Father's Day at Bristol Family Cycling Centre in Hengrove.  This was the first visit for many and it didn't disappoint.  There were expert instructors who matched bikes to ability.  We never seen so many different types of bike, from balance bikes, side by side bikes, trikes, bikes that could take a wheelchair and mountain bikes.  All that was missing was a penny farthing.  It was lovely to be able to cycle together in a fully inclusive setting.  One member even learnt to ride independently and was given a certificate.  We will definitely book again.
On what felt like the hottest day of the year, we went to the'Santa' train at Avon Valley Railway in Bitton.  This was a trip in lieu of the train that was unable to run in December because of covid.  The hour long trip along the old Midland line on a steam train was lovely.  We were able to get off and see the engine move to the other end of the carriages ready to pull in the opposite direction.  The excitment on some of our members faces, young and old was evident.  I think everyone felt sympathetic towards the engine drivers who had to wear boiler suits!! Hot work.
The start of the Summer school holidays saw us heading across the Severn Bridge into Wales for a spot of equestrianism.   Severn Vale Equestrian centre is in a little village just outside of Chepstow called Tiddenham.  It was raining but we were all eager to get stuck in.  After being fitted with protective riding hats, we entered the menage and were greeted with 4 gorgeous ponies, Snowflake, Red, Toffee and Woody and their handlers.  We learnt how to groom them,  how to put their saddles on and how to care for them.  We fed them carrots which they loved and quite a few of our young members mucked out stables.  The part we were all waiting for was having a ride.  We split into 3 groups, each with a pony and had races against one another.  You could see the confidence and joy all around.  It was brilliant and all too soon our session was over.
A FCDC Summer wouldn't be complete without a visit to Mojo Active, an all time favourite of ours, starting with a morning of fun for our 6-11 year olds. This was the first time parents and carers have dropped their children off and left.  Some children were a little nervous, some didn't know anyone, but after a few minutes all worries disappeared.  Our first activity was tree climbing.  Most children love to climb trees, and lucky for us we could do so in a safe controlled environment with harnesses.  This led on to the low ropes, teamwork was needed and evident.  After a refreshment break and a chat we headed down to the tunnel mazes for more fun, finishing off the morning tackling the assault course before parents arrived.
Another day, another Mojo visit, this time for the ks3 and ks4 11 years plus.  This was a day without parents/carers/siblings.  Just for those with the hearing loss as requested by our young members.  Another group with some slightly anxious kids, some who didn't know anyone else.  A safety briefing was required as we harnessed up for a session on the high ropes.  Brave kids and not an activity if you haven't a head for heights!!  They all took it in their stride as if being harnessed to a rope 20ft up was a daily activity.  Safe to say they all had a great experience and completed the course without any issues, and all had smiles on their faces.  Back to the cabin for lunch, where they moved chairs to be on one table to chat.  Just lovely to see.  The afternoon session started with den building with 4 unique dens created.  We had an estate agents type tour of each before being judged on stability, uniquemess and layout.  They were all deemed worthy of winning.  We moved on to the military assault course, a favourite with everyone, involveing teamwork to get around and over walls.  It was mentioned that no one from FCDC had ever fallen in the water when crossing the Zig Zag planks.  Famous last words!  Cue a young member falling in, not once but twice!  So many laughs.  We finished the day on the low ropes.  Teamwork evident once again.  A fabulous time was had by all and new friendships formed.
Noah's Ark Zoo Farm in Wraxall was next on our agenda and didn't disappoint.  So much to see and do, keeping everyone entertained, young and old.  There were animal talks and bird of prey flying demonstrations, small animal feeding, a huge playbarn and much more.  We set up tea and coffee under a marquee for people to come together and meet other families.  Another lovely day out in the fresh air.
With Summer over, our next get together was an autumn half term visit to Noah's Ark again.  We were so lucky with the weather, it was a gorgeous day.  Once again we set up a tea and coffee table, giving families the chance to come together and have a chat, children playing together.
Halloween we were lucky to welcome The Flying Seagull Project circus to Elmfield School.  Due to covid, we had to drastically reduce our numbers which unfortunately led to some disappointed families.  The Flying Seagull Project take their slapstick circus shows on the road to places where children and families are facing adversity, such as refugee camps, hospitals, prisons and education settings.  From the moment they arrived they were fabulous, greeting everyone on arrival.  The performance had children and adults laughing, and as they say, laughter is the best medicine.  After the performance, we were able to have a go at circus skills, plate spinning and the like.  We were so impressed that we put them in touch with Elmfield School for Deaf Children and they came and performed just before we broke up for Christmas.
FCDC held their AGM on Saturday 13th November, along with Treefest decoration making.  Treefest is an annual fundraising event held at St Mary Redcliffe church and is a joint venture resulting in a decorated tree called 'Bristol's Deaf Children'.  There were some wonderful creations on display.
Following our successful KS3 and 4 Mojo day in the Summer, we felt it was really important for this cohort to continue to meet up, just them, no parent/carers or siblings.  In November we booked 2 lanes at Hollywood Bowl and welcomed 10 members along, all of the Mojo group plus some new faces.  We had a great game, with lot's of cheating by the majority of the kids, putting the barriers down as a player was about to bowl.  It was funny and all taken with jest.  We followed up with a burger meal afterwards and brainstormed some ideas for future events.
We got our Christmas craft on, one Wednesday evening and made Christmas crackers.  This was an event for parent and carers and was lovely.  We got creative and crafted some lovely crackers, ate mince pies and chatted.  Time flew by so fast.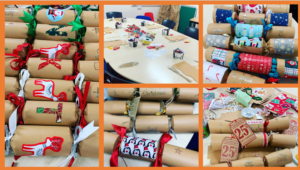 Avon Valley Railway 'Santa Special' is always a hit with our families and this year was no different.  Almost 80 tickets for our group!  A lot of organising goes on behind the scenes but it is all worth it to see the joy and magic of Christmas.  There was snow and Christmas donkeys for us to say hello to. This year Santa was onboard the steam train and walked up and down the carriages, stopping to say hello to all our families before taking up residence in his grotto back at the station.  After our trip on the train, families patiently waited for their turn to see Santa and to receive a gift.  Another magical day.
Our final event of the year was our Christmas party.  Once again, we had to reduce numbers due to covid and had a waiting list for any cancellations.  A good problem to have.  At one point we were unsure if we would be able to go ahead because of a new variant of covid circulating.  We made sure tables were socially distanced with families names on each.  It was lovely to see lot's of Christmas jumpers and other festive attire.  We played festive picture bingo that was suitable for all by having the images on the projector, pass the parcel with lights dimmed instead of music, and musical statues, again with lights dimmed.  Special guest, Father Christmas set himself up in his grotto, welcoming families one family at a time.  Inside the grotto was a Christmas tree and each child had to see if they could find their name on a decoration hung on it.  If they did, they had made it onto the good list.  Father Christmas had a gift for each child.  It certainly looked like everyone had a lovely time.  
And that is our year in review!  We have certainly managed to provide a variety of events this past year despite the challenges the global pandemic has set us.  2022 is just around the corner and we can all keep our fingers crossed that things will get back to normal, whatever that may look like.  If there are events you would like us to look into, drop us a message and we can see what we can do.
Thank you all for your continued support.
All that is left to say is we wish you all a happy, healthy and safe festive time.  See you in 2022!
With festive wishes,
Marcella, Helen and Trustees.