And just like that our Summer has ended and we are midway through September! We had some lovely events during the school holidays, welcomed new families and got to spend time with our existing families. Our first event of the Summer was due to be a visit to Bristol Family Cycling Centre but 3 days prior we received a call to say they had a burst water pipe, were without water and toilets and had contractors due in to assess damage. We had to postpone. In hindsight it was a blessing because we were amid an extreme heatwave. Cycling on a track in that heat would have been difficult. We have rescheduled it for Saturday 1st October. 
Here is a little of what we have been up to this Summer.
Noah's Ark 
We loved our previous visits to Noah's Ark so we made a return trip. We had around 60 tickets booked. The weather was hot and dry but we would rather that than wet. Over the Summer Noah's Ark had an Elephant Parade of the statue variety, painted by local and international artists to raise awareness for the need for global elephant conservation dotted around the 100 acre site and were a delight to see.
After having a wander around looking at the wide range of animals, we regrouped for a chat over a cuppa. Kids were entertained in the splash area, cooling off. Families chatted to one another. It was a lovely day. 
Fun and Games with bouncy castle 
It is always a little tense when holding an event outside with our good old British weather, so we were relieved when the Bouncy castle arrived for our fun and games day. The slight drizzle did not put families off attending Elmfield School, and we saw a steady flow of families. We welcomed new families who had never been to any of our events before. We had games set up in the playground and the children played on the climbing frame and explored the woodland.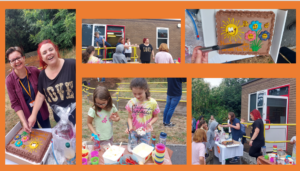 An ice cream parlour was set up, full of chocolate, sweets, fruit and sauces for the children to make their own sundaes. Yummy! We had a wonderful cake to say cheerio to Shelley and Marcella who are moving to pastures new, although Shelley will still be available online and Marcella will still attend some events. We had a lovely couple of hours before it was all hands on deck to bring everything inside as the heavy rain came in. 
Locked in a room
Monday 22nd was the turn for our older group to have some fun.  We had previously asked them what they would like to do, and a recurring request was an escape the room experience.  We booked the Parallax rooms at Locked in a Room's Harbourside, recommendation. Once checked in we made our way upstairs and were ushered into a large auditorium.  We split into 2 teams and would go head-to-head in separate rooms. Let the battle commence! A safety briefing was given by a member of staff and Joe signed alongside. Suddenly an eccentric man dressed up in character appeared, gave further instructions, and set the scene before leading us to our rooms. Once in the room, the clock ticks down.  We have 1 hour to solve clues and riddles, find keys to open the 4 padlocks on the door.
It was a little difficult to know how to start but once we found the first key, it all fell into place, and we were able to wave at the screen with the timer clock on to get clues. At one point we were reading morse code from a picture frame on the wall when the frame popped out from the wall exposing a clue! Our heart rates hit the roof at that point, and I am sure the shrieks could be heard for miles! When the hour was up, a member of staff entered to help us complete the task. We were so close to finishing, possibly another 5 minutes to go. The other room was at the same point of the puzzle. A draw is an enjoyable way to end the experience. We had a group photo at the end with props. A brilliant time was had. 
Famished, we went to the Slug and Lettuce restaurant underneath Locked in the room, for some much-needed food and drink. Another fantastic time spent with an excellent group of kids. What adventure will go on next I wonder? 
Pony care and riding  
Last Summer we had a superb morning at Severnvale Equestrian Centre in Tiddenham, Nr Chepstow so we arranged a return visit. On arrival riders were fitted with a protective riding helmet before making their way to the inside arena. Red, a lovely bay pony and Bubbles a grey, were tethered for the children to groom and pet. The staff had provided a table full of treats such as carrots and apples for the children to thread onto baling twine to feed the horses and ponies in the yard. They loved it. Some ponies were tacked up and brought out ready for our children to have a ride.  They were taken off in small groups for a walk. It was lovely to see those a little nervous settle into the experience. We had a look around the yard, saying hello to the eventing horses. We had a super time and hope to return sometime in the not-too-distant future.