Spring is finally here 🌷! We have welcomed it in with lots of fun events/activities at FCDC.

Mother's Day Afternoon tea ☕️
Mother's day called for a little treat. We celebrated some wonderful women by paying a visit to the Café at the New Room, where we enjoyed a Afternoon Tea spread, filled with home made sandwiches, scones and cakes. It was a lovely chance for the Parents/Carers to have a catch-up over a cup of tea. Everyone was gifted a Mothers day self-care goodie bag filled with treats from Lush.
Woodland Walk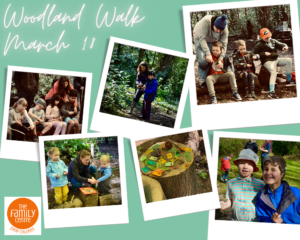 We then paid a visit to Bristol Forrest School for a walk in their woodland. We were guided around the forest and told to look for items to tie onto our 'journey sticks' (anything that would remind us of our walk). The families took part in activities including, Finding objects to match different woodland colours, Treasure hunts, where we teamed together to hunt for pine cones, And finally, what seemed to be the favourite.. Smore making. We ended our day sat around our base camp with hot chocolates and sharing conversations about our day in the wild.
Family Sign
We ended March with the last session of our Family Sign course. The course was designed to teach families how to use British Sign Language in everyday family life with topics such as Names, Greetings, Numbers, Emotions/Feelings, How to ask questions and lots more! The families took part in 5 zoom sessions, and ended the course with a face to face, where they all got to meet each other in person and share stories/experiences.
Easter Eggstravaganza!🐣
It was then time for our annual Easter celebrations at Elmfield School. It was a busy event, with over 80 attending! We went straight outside to start our Easter egg hunt. The children were set a task by the Easter bunny to find all the eggs and pictures to reveal a Easter word and unlock their prize. The children were up for the task and found them all in record time. The families then went inside for crafts, an Easter buffet, and a game of bingo, where there were lots of Chocolate eggs to play for! (Thank you to Tesco Eastgate for your kind donations).
Wild Place Project
We finished the Easter half term with a trip to the Wild Place Project. We met animals from across the world including the mischievous lemurs of Madagascar and magnificent European brown bears. The children explored the outdoor play areas before stopping for refreshments at lunchtime where the families caught up and shared stories of their animal sightings. The children had the chance to become Easter Eggsplorers and unscramble the key word to claim their Easter treats before going home
Leap Of Faith
Whilst visiting the Wild Place Project, some of our families took part in the Leap of Faith. Everyone got stuck straight into the climbing challenges including the climbing wall, a high wire ladder, and a totem pole. They also took part in the giant swing. They were strapped into paragliding harnesses then winched up to 25ft in the air. The guides pulled the pin and let gravity do the rest!  Plunging through the air at high speed. To finish off the afternoon of adrenaline, Those that were brave enough got clipped in, climbed a 25ft pole, took a deep breath and took the leap of faith.
Boing! Soft play/Coffee morning 🍰
Our last event in April was a trip to our usual coffee morning/soft play spot. It was a lovely get together for the parents/carers and children. For our next Coffee morning catch up we have decided to move it outdoors with the good weather ahead of us. We will be having a morning at Lawrence Weston Community Farm to feed the animals, woodlands and play in their outdoor soft play area.
We have alot more exciting events coming up at FCDC! Check out our events page for more information and to book 👉 https://fcdc.org.uk/events/