OUR EVENTS
In addition to these one off events we also run a regular BSL Choir and coffee mornings with crafts and activities for the children. If you have any questions about our events please contact us.
May Coffee Morning Family Social
April 24, 2019 @ 5:00 am

-

May 18, 2019 @ 5:00 pm

Free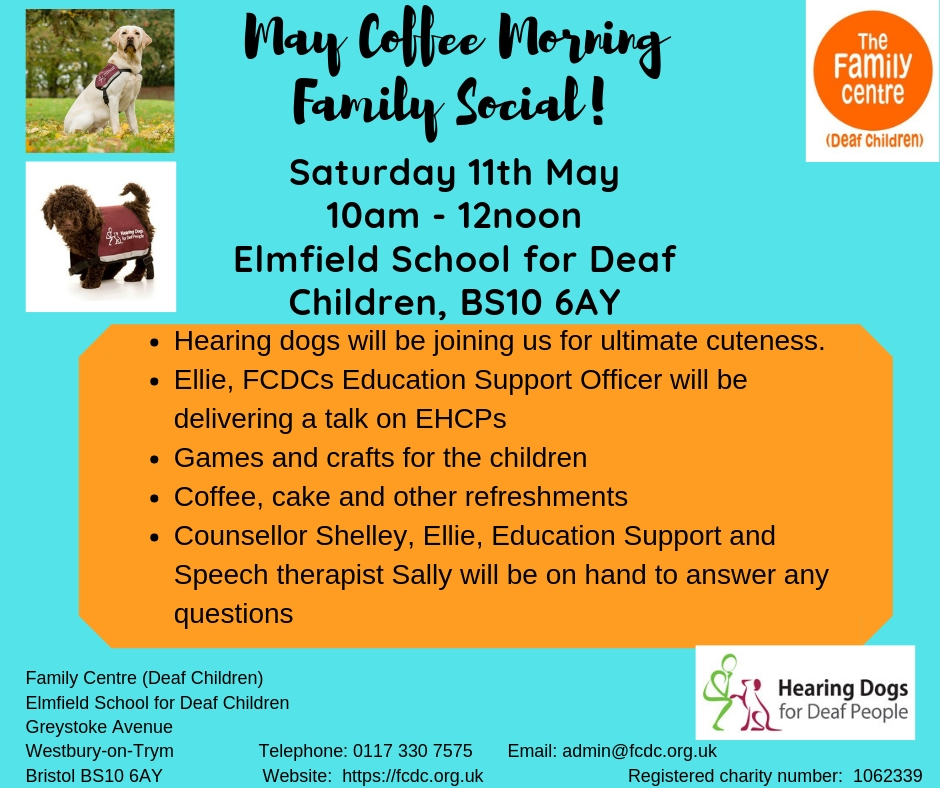 Saturday 11th May 2019, 10 am – 12 nooon, Elmfield School.
We have Hearing dogs coming for a visit at our coffee morning, along with crafts and games.  There will be a talk on EHCP's presented by Ellie for parents if they wish. EHCP's cause distress and worry for many parents and carers.  Perhaps there is something you would like to ask.
Plenty of refreshments on offer.  We also have Shelley our counsellor coming to answer any queries you may have.
Please rsvp to let us know you are coming.  We look forward to welcoming current and new families.
Tickets are not available as this event has passed.
FOR ALL EVENTS
It is essential that all of our events and activities are enjoyable, welcoming and inclusive to all and we rely on all of our families who attend to ensure this is the case. For all our family events parents will be expected to be responsible for their children at all times to ensure we have a respectful, safe and inclusive environment. If there are any concerns or anyone does not feel this is the case please approach either staff or trustees who will always be available at all events.
FOR NEW FAMILIES
If it is your first time attending an event or you don't know anyone else attending, please let the organisers know and they will link you with another parent as part of our buddy system.
FOR STAFF
If you are available to work at an event, please email Emma at emma@fcdc.org.uk, stating the event you are interested in.